Echoes of Chicago stands with all of those who are suffering in the world right now.
_____________________________________
Join Echoes of Chicago at Taste of River North July 22nd & 23rd for Arts on the Riverwalk in Montgommery Park at North Kingsbury and West Erie.
There is a $5 suggested donations at gates of the event.
The Echoes of Chicago's Arts on the Riverwalk at Taste of River North will activate the Montgomery Park's Riverwalk through a celebration of local art, with contributions from local artists, artisans, and craftspeople. In addition to a variety of performances and purchasable art, there will be ample opportunities to participate: the #ChiLoveYou Community Mural, Echoes' classic Arts & Crafts tables, Kite-Making, and other interactive activities. Attendees of all ages are encouraged to join this celebration of local art.
Participants:
Art by Markas O Caricatures, C.Rob.Virgo, Chaosart666, Copper Coins and Erin Kelly, Grey Squirrel Handmade, Jocelyn Vosta, Jon Carradine, Jose Torres, Lavender's Story, Lincoln Apparel, Little Wing Folk Art, Omar M Shamsi, Oscar Joyo, Pi Design Prints, Samantha Rausch, Zerobird
Nina Cativa as Windy, The Echoes of Chicago Superhero
Saturday Performances by:
JBrinae, Nina Cativa, Aris P, Forever, Prelude To A Million
Sunday Performances by:
Animal Farm, Tension Wave, Protential Media Group, The Perry Dontae Experience, The Pack Drumline
—————————-
RSVP on the Facebook Event Page
View the Press Release
View the Artist Information Packet
Join us for Echoes of Chicago's celebration of Chicago's 180th Birthday! Come out and support Chicago culture, creatives, and innovators.
Saturday March 25th
6:00pm to 12:00am
$10 suggested donation
Morgan's on Fulton: 952 W Fulton Market (ADA accessible)
A Multi-floor event space in historic Fulton Market District
An Art Gallery featuring 37 Local Artists
A Marketplace featuring Local Artisans, Nonprofits, and Businesses
Local Music Performances
Arts and Crafts tables at our Creative Corner
Local Beers and Spirits
A Themed Photo Booth
Chicago Lunchbox Food Truck
Mia R Kelly as The Echoes Superhero, Windy
Live Art by Chris Duran
And more!
Live Music:
DJs Frique & Julio Bishop
Artemis300
StephStaa
Phenomenal1
DJ D Square
Fester
Artists: Aaron Truesdell, Alan Cain, Aldo Quintanar, Alexandra Nelson, Alexandra Samios, Alonzo Alcaraz, Andrew Rehs, Andy Mott, Bridgit Gallagher, Christopher Breiler, Coale Souder, Curtis Robinson, Daniel James Cook, Danko Farley, Dexter Fabi, Epifanio Monarrez, Erika Doyle, Estela Vega, Guillermo Monarrez, Isaac Israilevich, Jenn Whitehead, Jillian Kennedy, Jonathan Carradine, Jose Torres, Joslyn Vosta, Linda Horton, Lucio Vergara, Maxwell Emcays, Megan Kind, Oscar Joyo, Paul Thompson, Renata Maliszewski, Robert Johnson, and The Good Cap'n, Zak Zuniga
Marketplace Vendors: Archetypes Design Art By Markas O Caricatures ,Art Gecko, BAGizzles, Chaos Art, Inezita Santos & Cha Meister Jewelry, Limba Gal Jewelry, Lincoln Apparel, Little Black Jeans, Little Wing and Grey Squirrel,  m.west designs, Made a Mano, MAKA designs Lifestyle, Maxwell Emcays, Prelude To A Million, Renmadesign,The REup, Tommy's Abstract World,
Echoes of Chicago is a nonprofit whose mission is to create affordable, innovative arts and music events that promote Chicago culture and community while raising awareness and funds for local nonprofits.
We are entirely volunteer-run and donate 100% of each event's profits to local nonprofits. Happy Birthday Chicago is our annual fundraiser where we raise funds to support and expand our organization and its future events.
To be invited to future Echoes events friend Echoes OfChicago and join our mailing list!
Help us Raise Funds for an Echoes Headquarters as a new Chicago Venue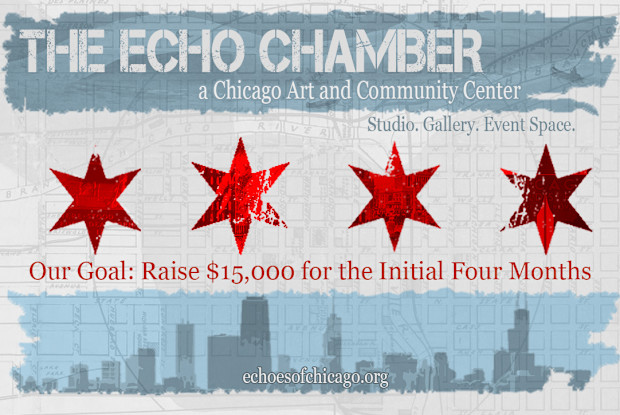 Why We Need Your Help
We need art and community now more than ever which is why we are excited to announce our intention to create a new Chicago arts and community space: The Echo Chamber.

Over the last several years Echoes has created and fostered a network of amazing and talented artists, musicians, creatives, activists and other caring Chicagoans dedicated to making our community stronger.  The Echo Chamber would serve as a headquarters for this community, allowing for new ideas, collaborations and events to continue growing.
Our goal is to have an event space, permanent gallery and dedicated studio space for the community to take advantage of. The space itself will be open to the community and available for other non-profit events, concerts, classes and more.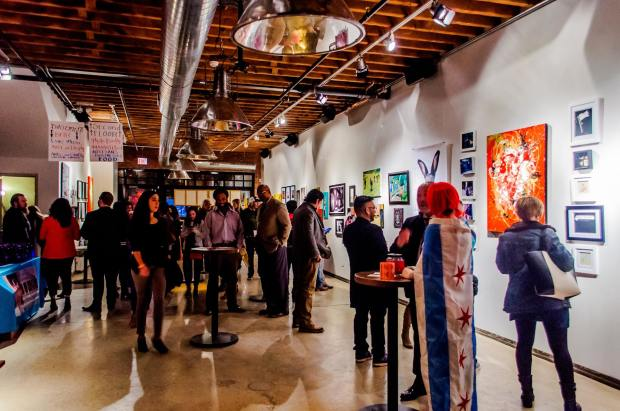 We are currently touring commercial and industrial spaces as potential sites for a building that is strategically located and adequately sized.  Finding and creating a space that is safe, accessible and fits our needs will be challenging, but we are lucky to have a fantastic and talented team with various backgrounds of art, carpentry, business, event production and other community members willing to roll up their sleeves to make this dream a reality.
After searching, we estimate it will cost at least $4,000 a month to cover our bills (rent, utilities, insurance & more).  We will invest what we have saved into fixing up and furnishing the space and then of course, producing the events.  To even be considered for a four-month lease, we need the start-up funds to show that we are serious.  Raising $15,000 provides us the money for this trial-period and allows us to assess the financial sustainability of the Echo Chamber.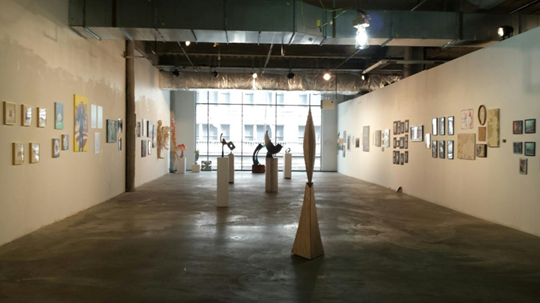 Who We Are
Echoes of Chicago is currently a 100% volunteer run 501c3 nonprofit dedicated to strengthening our community through the arts and innovative cultural events.
Echoes of Chicago was founded in 2003 as a multi-media artist collective gathered under the common interests of sharing our creativity and enriching the creative potential in others.  Echoes accomplishes this goal by producing events that showcase the work of as many local artists, musicians and performers as possible.  We ask for a suggested donation to attend, no one is turned away for lack of funds.

In 2011, Echoes started leveraging our uniquely produced art and music events to raise funds and awareness for other nonprofits and the issues they address. Over the last 5 years, our events have raised over $20,000 for local nonprofit organizations here in Chicago.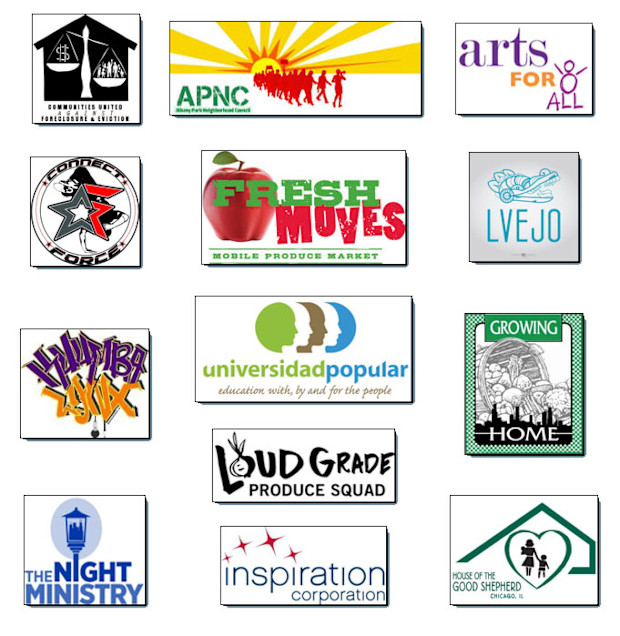 Echoes of Chicago's vision is to better the City through creative placemaking strategies – by producing arts and music events, supporting the local economic ecosystem, and supporting social justice work through exposure and fundraising.  We aim to raise the quality of life for a wide spectrum of Chicago's citizens with our events.  Echoes provides a unique experience at our fundraisers by working with incredibly talented, yet often underexposed local artists.
Who We Serve
We aim to serve all creative, passionate, and socially aware individuals, young and old.  Our events' artists, musicians and attendees are a diverse group of all ages and backgrounds.
Echoes works with artists, musicians, creatives, entrepreneurs, local businesses, nonprofits and the general public to foster a symbiotic community.  Our events provide an environment where participants from various backgrounds and their audiences can cross-pollinate and share their creativity with new audiences.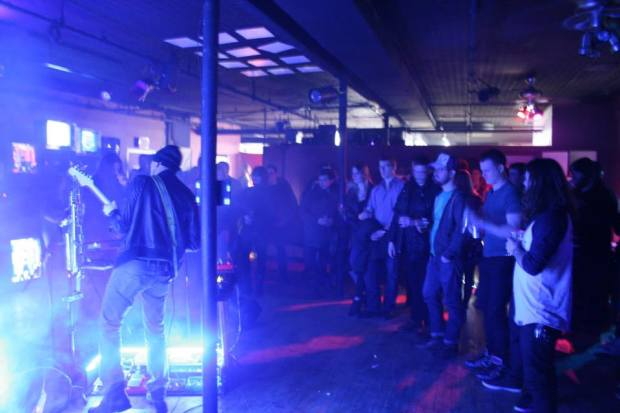 One of our goals has been to raise our attendees' awareness of what needs improvement in Chicago through the participation of our benefiting nonprofits.  We provide an affordable philanthropic opportunity to support organizations in our community by partnering with multiple local nonprofits to host information tables and receive 100% of the profits.  By donating to any element of an Echoes event, one supports local businesses, artists, musicians, nonprofits and the community.

Our Events
Echoes of Chicago produces cultural and community fundraising events that typically include musical performances, a visual gallery, performances by poets, dancers, and comedians, as well as interactive activities such as arts & crafts tables, themed photobooths, button making, trivia, and more.  Our featured nonprofits also host an information table and activations to help educate attendees about the work they are doing. Echoes has worked with over 250 local artists, musicians/bands, and has raised funds for over a dozen organizations.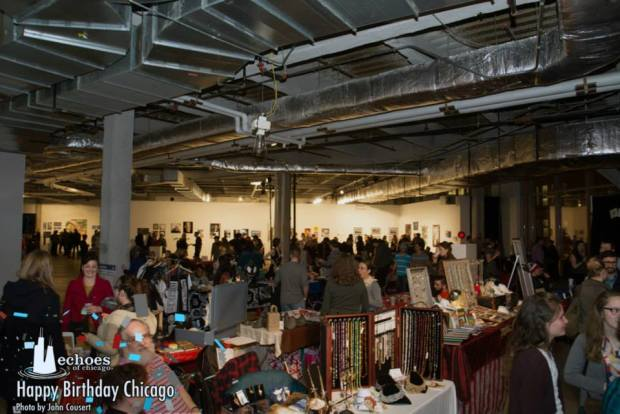 How can you help?
Donate!  Any size donation will be greatly appreciated because every bit helps!
Click here to donate at our Generosity.com campaign!
To help reach our goal, some of our favorite local artists have donated images of their work to be made into art perks to show our appreciation for various levels of contribution: postcards, prints, and canvases.  For higher level donations, artists are donating their time for custom pieces and murals.  Echoes can even plan and run your next event!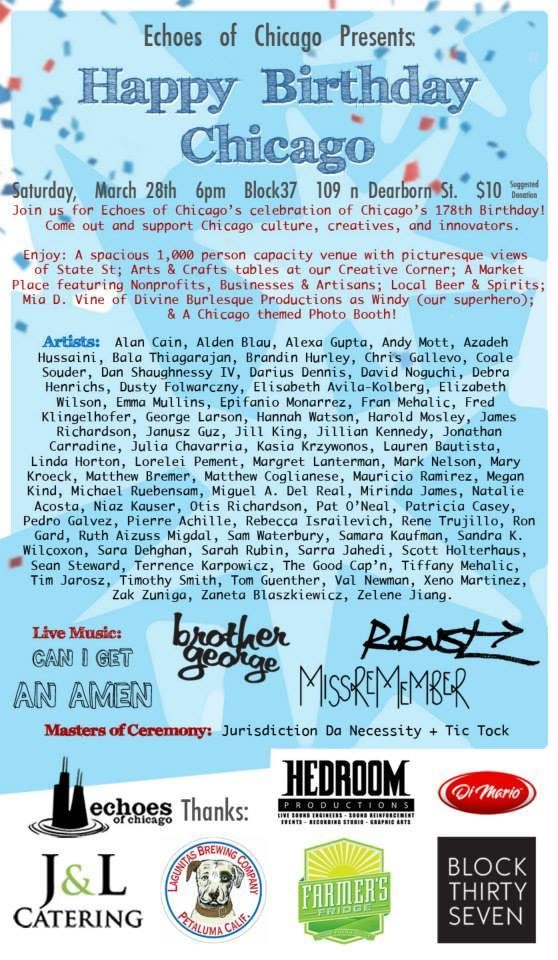 We have made this a flexible funding campaign so that if we don't make our ambitious target every dollar donated will be invested into our upcoming events and will therefore go right back into the community.  If we surpass our goal, it will help ensure we secure our ideal space and ideally for longer.
Thank you for supporting Echoes of Chicago.  To see more photos from our events: facebook.com/echoesofchicago
Like our slogan says: "When a drop hits, it ripples…" So any size contribution will help and means so much to our team!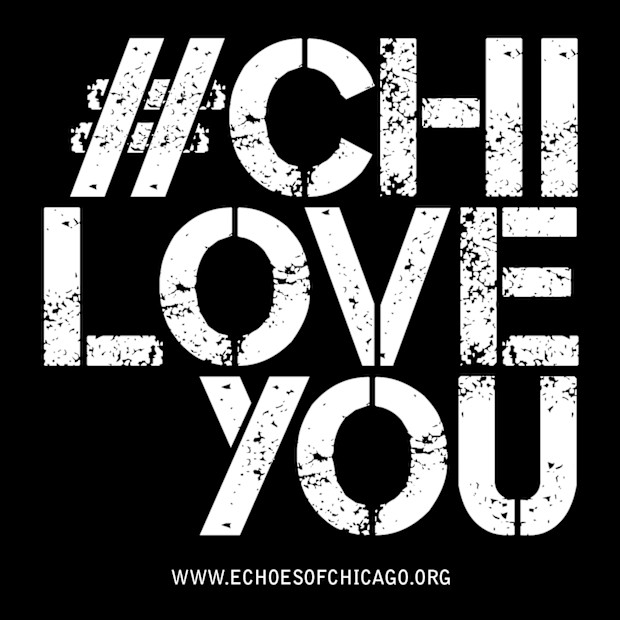 #ChiLoveYou is an initiative we created to encourage positivity in our city through social media interactions.  The Buttons and some of the Stickers given as perks will be this #ChiLoveYou design.

Alan Cain
Title: Chicago Flag Remix
Year: 2016
Website: alanjcain.com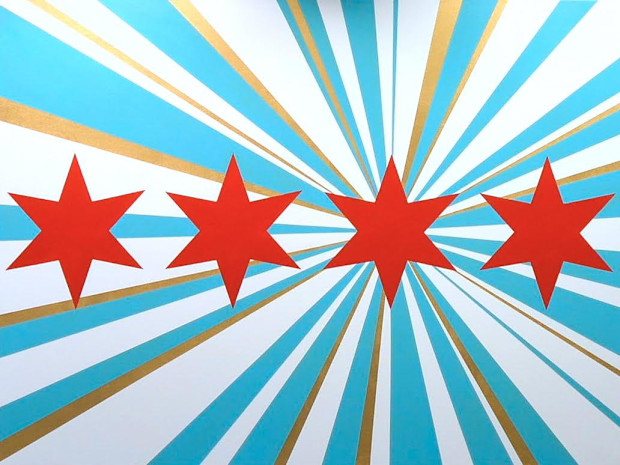 Linda Horton
Title: Loop Walker
Year: 2015
Website: lindahortonphotography.com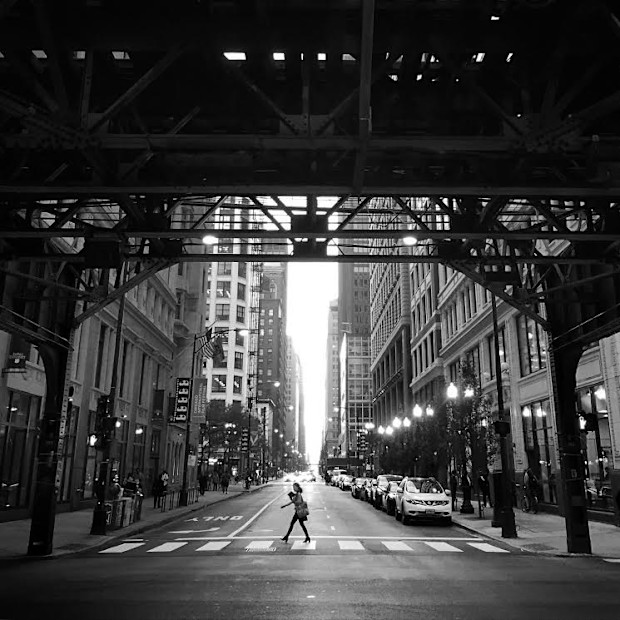 Megan Kind
Title: No Ketchup
Year: 2015
Website: artistickind.com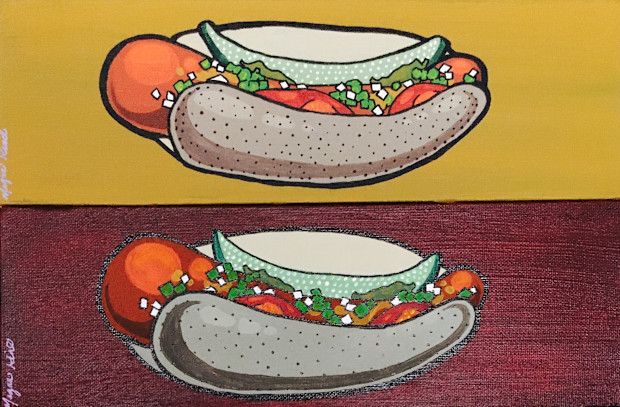 Robert Johnson
Title: HBC
Year: 2016
Website: cgrayartist.wordpress.com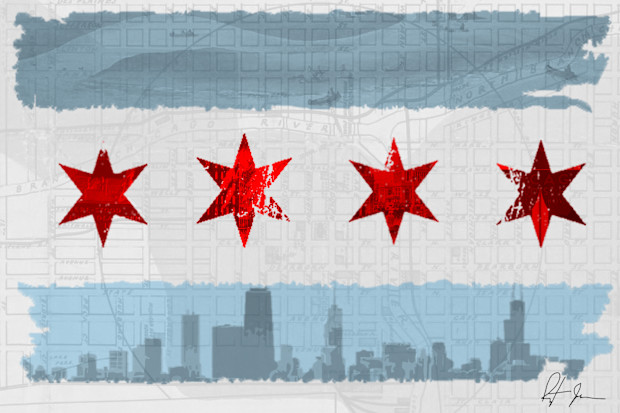 Darius Dennis
Title: Sells Itself
Year: 2012
Website: dariusdennis.com
Limited quantity of prints and canvases.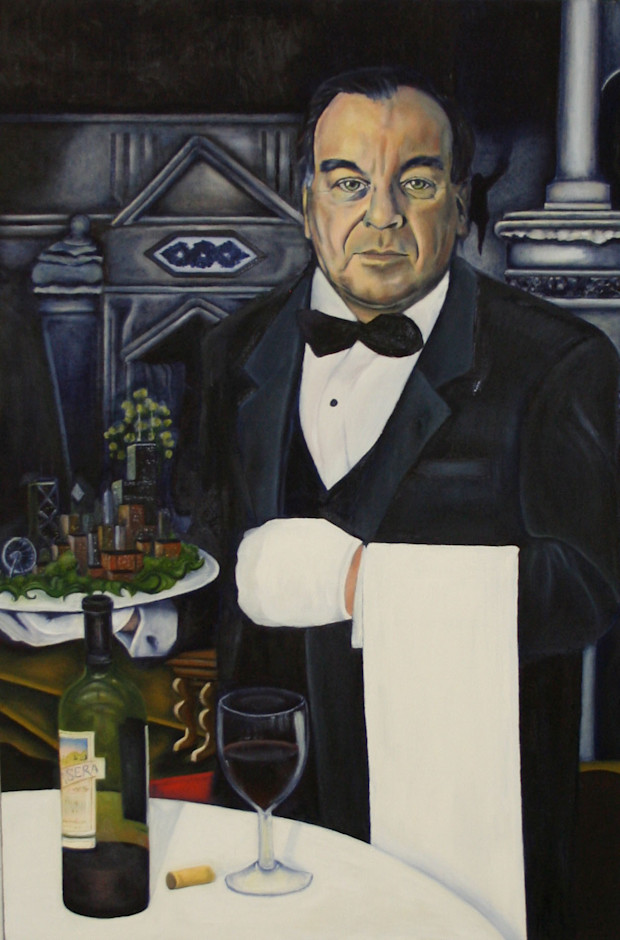 Rebecca Israilevich
Title: untitled
Year: 2011
Website: artslant.com/global/artists/show/171300-rebecca-israilevich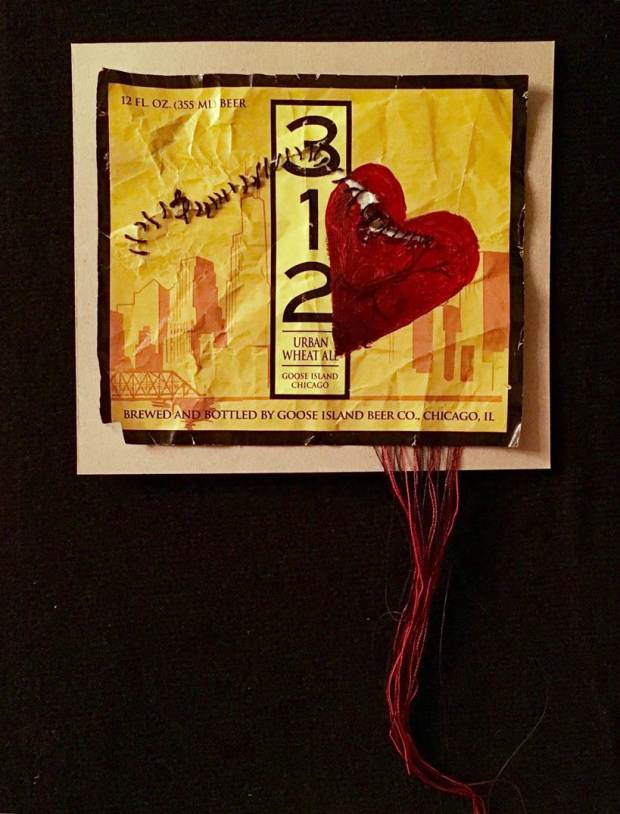 Daniel Burnett
Daniel Burnett, a founding member now living in St. Louis, has offered to come to Chicago and paint a custom mural for our fundraising campaign.  Therefore, if selected as the artist for the custom mural, scheduling will need to be flexible.  He will also collaborate with Hans Seaberg on a mural.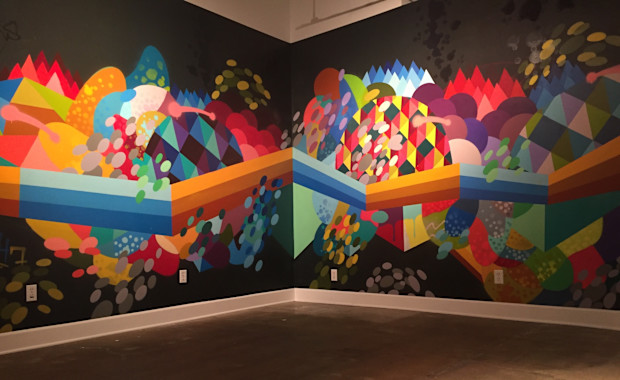 Hans Seaberg
Hans Seaberg, a long-time executive team member, has volunteered to create either custom pieces or mural.  He will also collaborate with Daniel Burnett on a mural project.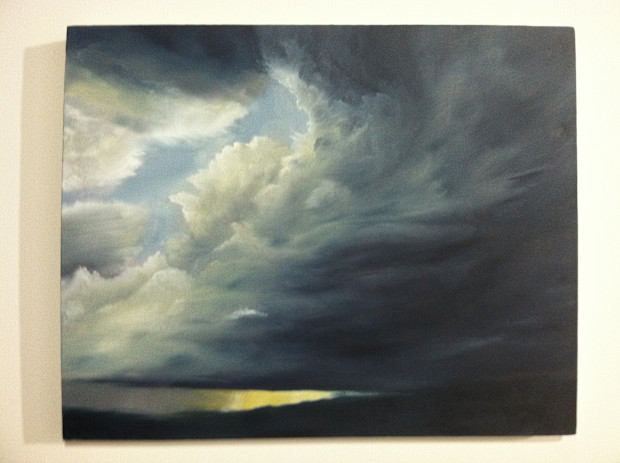 Andrew Mott
Andrew Mott, a founding member and current executive team member, has offered to paint custom pieces for our fundraising campaign.